Libraries
Kyoto Women's University has three libraries: the Main Library, the Branch Library, and the Periodicals Room. Together, these libraries house around 820,000 books that have been accumulated over the years, making it one of the largest collections held by a women's university in Japan. This rich collection includes numerous titles in the fields of English literature and history and Japanese language and literature. The Periodicals Room, which houses academic journals from Japan and abroad, is highly regarded by researchers.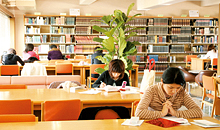 The Main Library (Building E)
A broad selection from a variety of fields
Located on the west side of Building E, the Main Library comprises five stories above ground and one below. As the main library of the university, it boasts a collection of books from a wide variety of fields. The fourth and fifth floors are used as reading rooms; the second and third floors are three-layered open-stack rooms; the first floor comprises an electrically operated closed-stack room; and the basement floor contains the Periodicals Room.
Note: Books related to literature are held in the Branch Library.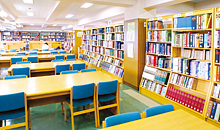 The Branch Library (Building J)
A focus on literature and history
The Branch Library occupies the first floor and basement floor of Building J. It is home to a specialized collection of around 140,000 titles, most of which are related to Japanese literature, English literature, and history. This library also includes areas with audio-visual materials, rare books, and magazines, along with study rooms that can be used for conducting seminar activities or joint research.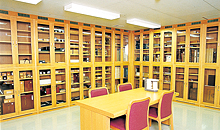 The Periodicals Room (Building E, basement)
Holds magazines and newspapers
The Periodicals Room, located in the basement of Building E in the Main Library building, holds around 9,000 titles of various specialized academic journals from Japan and abroad, along with popular magazines and major Japanese newspapers. The Periodicals Room also keeps research bulletins and papers published by research institutes and by national, public, and private universities from all over Japan.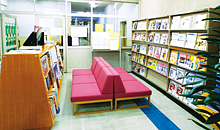 *Construction plans for a new library are now underway. The new library will be completed by the end of FY2016.